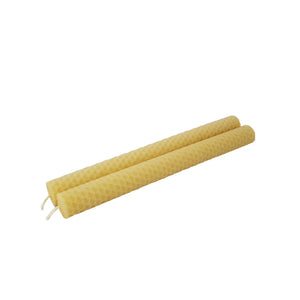 Enveloping your home in ambience, our Beeswax 21cm Dinner Candles 2 Pack are quintessential for an evening in.
Handcrafted with only the highest quality 100% Australian sourced beeswax, these candles burn fastidiously, without the risk of mess. Free of any added fragrances or toxins, their subtle scent of honey is sure to bring an air of luxury to your space. Boasting an eco-friendly formula, Beeswax candles emit minimal smoke and positively charge the air with their release of negative ions.
Save when you purchase multiple and enjoy a lifetime of artful illumination.
Sold in sets of 2
6 pack also available
Specifications: 
Weight e65g (pair)
Height e21cm
Diameter bottom is 2cm
Burn Time Approx 4-6 Hours
Due to Biosecurity restrictions, shipping to Tasmania is not available.