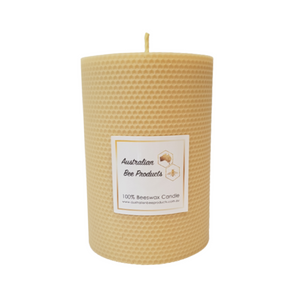 Coveted for a special occasion, the beauty of our Extra Large Rolled Candle was too exquisite to remain exclusive. Our natural, handmade candles are made with 100% Australian beeswax and keep the natural, subtle scent of honey, never blending with artificial fragrances.
With a unique variation in size and colour due to being handmade, expect premium quality. Beeswax candles make for a more eco-friendly option compared to soy or paraffin candles due to their low smoke emission and the release of negative ions that bind with toxins, dust and mould, purifying the air.
This candle has been acclaimed for designer-level elegance, crafted with superior quality materials. Enjoy the timeless luxury of beeswax with its natural honey fragrance, without chemical additives. Ignite your evening, and your senses, with the eco-friendly clean air and minimal smoke from this genuine beeswax candle.
Due to Biosecurity restrictions, shipping to Tasmania is not available.
Specifications: 
Weight e1.5kg
Height 20cm
Diameter bottom is 15cm
Burn Time Approx 90-100 Hours