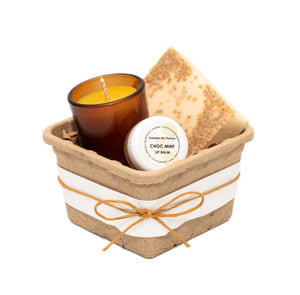 Ready to go gift packs to make gifting a whole lot easier! Honey and beeswax products make the perfect gift for anyone and any occasion.
This pack includes:
1 x Handmade Donkey Milk Soap 
1 x 100% Beeswax Amber Candle
1 x Beeswax Lip Balm
Our handmade soaps are made using beeswax and honey repurposed from our bee hives during our honey extraction process, by doing so we are using sustainable methods to ensure there is no wastage in process. Due to the use of natural ingredients, our handmade soaps are suitable for all skin types, especially those with sensitise skin.
Our lip balms contain a high percentage our own beeswax, (more beeswax - less filler oils) which means our product is harder than normal, but also means our lip balm will stay on for longer than other comparable lip balms. We believe this product to be one of our finest.
Also available is our Red self care pack.