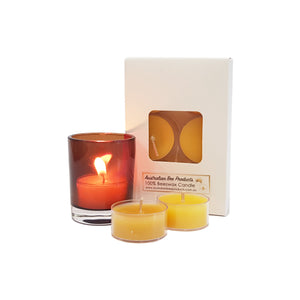 6 pack of beeswax tealight candles paired with a glass tea light candle holder for the perfect gift.
Our beeswax candles are all handmade without the addition of fragrances or other toxic chemicals, allowing them to omit a natural and subtle scent of honey. As our candles are handmade, some variances in size and colour may occur.
To create these candles we use 100% repurposed beeswax from our own hives. When we extract our honey, we remove the outer coating of wax from the frames to release the honey. These tiny pieces of wax are melted down and filtered to remove any debris, before being made into candles to minimise wastage. 

Pure beeswax candles burn with almost no smoke making them eco-friendly and the preferred candle over soy or paraffin candles. Beeswax candles release negative ions in the air. the negative ions can bind with toxins, dust, mould and mildew, cleaning the air we breathe.
Standard Tealight candles x 6
Burn Time Approx 2.5 Hours
Due to Biosecurity restrictions, shipping to Tasmania is not available.