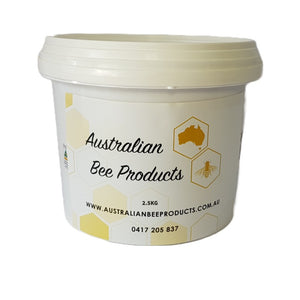 Our raw natural honey is cold extracted which retains all the healthy nutrients naturally occurring in honey. We do not pressure filter our products so you will find the odd spec here or there but you will also have traces of pollen and propolis as well and all the taste and goodness that nature intended. 
All pure honey encounters some candying and in particular, because our honey has not been heat treated, candying will occur. This will happen as the weather gets cooler or honey is stored in the fridge. It is a good sign that your honey has not been blended or heat damaged. To remelt any candy honey, simply place the container in a hot water bath or leave on a sunny window for a couple of days.
Our honey will never compare in taste to mass produced supermarket branded honey as we don't blend batches. We keep each batch harvested separate so you can taste the different flora the bees have been collecting nectar from. 
**Due to Biosecurity laws, we cannot ship our raw cold extracted honey to Tasmania or Western Australia.