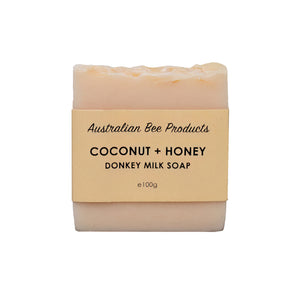 Our Coconut and Honey soap will remind you of the beach in Summer!
Donkey milk is an excellent hydrator for the skin, famously known to be bathed in by Cleopatra.
All of our handmade soaps contain beeswax and honey repurposed from our own bee hives during our honey extraction process.  By doing so, we are using sustainable methods to ensure there is zero waste. Due to the use of natural ingredients, our handmade soaps are suitable for all skin types, especially those with sensitive skin.
Beeswax is known to contain antimicrobial and soothing properties that form a protective waterproof barrier that helps to keep moisture in when applied to the skin. Honey is known to contain moisturising benefits, as well as antibacterial, antiseptic, antioxidant and anti-fungal benefits, which is great for the skin. Our soaps have been made without the addition of palm oil or other synthetics.
Due to our bars of soap being handmade using simplistic cold extraction methods with minimising refining and processing, some impurities may be visible (or present).
Individually wrapped in biodegradable wrapping to keep the natural scent intact.
Ingredients: Aqua, Glycerin, Beeswax, Honey, Donkey Milk, Coconut Essential Oil, Propylene Glycol, Sodium Laureth Sulfate, Sodium Stearate, Sodium Laurate.
Weight: e100g
Allergen notice: May contain traces of pollen and propolis.