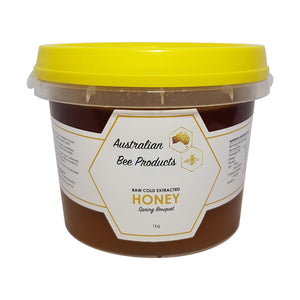 Spring harvest honey is always exciting to try as you get the combination of a forest full of freshly budding flora. When you combine its vibrant golden colour with its nutritionally awesome flavour you will want honey on everything.
Thats ok, its a vitamin and mineral packed super food!
Our honey is as pure as you can get it. Hand harvested, manually prepared and cold extracted. Minimal filtering gives you a product that has all the taste and goodness that nature intended.
All pure honey encounters some candying. This happens usually as the weather gets cooler or honey is stored in the fridge. It is a good sign that your honey has not been blended or heat damaged. To remelt any candy honey, simply place the container in a hot water bath or leave on a sunny window for a couple of days. Our honey will never compare to mass produced supermarket honey products.
**Due to Biosecurity laws requiring pasteurisation, we cannot ship our raw cold extracted honey to Tasmania or Western Australia.